Quivertree Family Expeditions
Why Quivertree? Because we are like you.
Custom-designed family adventure travel plans
We're outdoor adventure travel enthusiasts who don't believe we need to give up exploring other countries and cultures because we have children. Theme park vacations are not what we're about, nor the kind of family excursion you're looking for either. We know that traveling with kids and discovering the remarkable cultures and peoples of our world, and seeing that world through the eyes of our children creates unforgettable memories that we will always share with our children. Be they toddlers or teenagers, adventurous family travel results in close bonds and endless hours of shared conversation. You get to show your children the world and we help you make that happen.
How Our Family Excursions are Planned
Because your family is unique, and every family excursion is a special and custom designed travel adventure just for you, we do not have any 'model' itineraries. We use our own family adventure travel experiences and knowledge and the expertise of some of the best local operators for every expedition. So if you are interested in a once in a lifetime family experience, complete our 'Plan a Trip' questionnaire which helps us best design your custom family travel adventure. Within a few days, we will give you a rough outline of what we have in mind for your family. If you wish to go ahead, you just have to fill out the Reservation Form and provide a deposit. Within two weeks, we will present you with your full itinerary. It's as simple as that, and we will work with you every step of the way to best ensure you are properly prepared and that the trip is perfectly suited to the needs and interests of your family!
Why trust us to plan your family expedition?
We've been to these destinations with our kids.
We believe that family trips need to be one-of-a-kind and built around your interests and needs.
We know that these kinds of experiences will always be part of your family stories.
We want those stories to be unforgettable and magical.
And we've learned from our experiences and want to use that knowledge to make your trip even better than ours was….
We know that family travel experiences remain in the family's collective memory for decades. Adults remember trips that they made with their parents when they were kids, and kids remember special times bonding with their parents.
Our expeditions aim to achieve the above by introducing families to one of a kind, never to be forgotten destinations and experiences around the world. Destinations that we have been to with our own families!
Contact us today at info@quivertreeworld.com or (1800) 235-9941 for information on our family adventure vacations.
Recommended operator in Outside Magazine's best family destination 2013
Read the segment on our media page.
Recent Traveler Testimonials
We had an amazing trip. What a great adventure for our family. Thank you!
Marshall, Matthew and kids, Richmond, USA (traveled to Peru)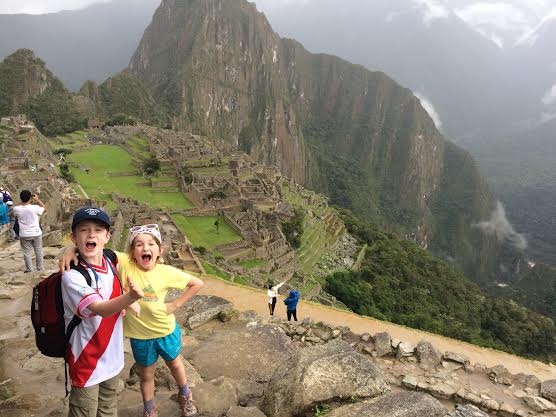 "Our family trip was just amazing. Quivertree designed the program to perfectly meet our needs – and it was delivered with true excellence. Really couldn't fault a thing and am already sharing your contact details with friends keen to do a similar thing. Thank you so much!"
Jenny, Geraint and kids, Switzerland (Traveled to Myanmar and Vietnam, and later to Southern Africa)
The trip was wonderful and our guide, Lahcen, was absolutely spectacular–probably the best guide we've ever had! The cooking class was also a big hit, and doing one in the Berber village was a great call.
-Caren, Rich and kids, New York (traveled to Morocco)
We had absolutely amazing time in Ecuador and I am very thankful to you for suggesting Ecuador and for organizing an outstanding trip for me and my kids.  A big, big THANK YOU for our fabulous trip.
–Irina, Belmont, California (traveled to Ecuador on a family vacation with her kids, Katrina and Anton) – and then dad Yuri joined for their next trip to South East Asia
We had an amazing time and have been singing your praises to all! Also, the Anantara Resort in the Golden Triangle "may be the greatest place on earth!"
Shai and Abigail, New York (traveled to SE Asia with their five kids)
It was an incredible trip and such a wonderful experience for the kids.
You really pay attention to every single detail, and make traveling as a family such a wonderful experience.
Nathalie and Frederic, Luxembourg
We've traveled all over the world to more than 40 countries and this was one of the best trips of all time.
-Moss and Peg, Seattle, Washington (traveled to Puglia on a biking trip)
As seasoned travelers we have high expectations and Quivertree exceeded our expectations on every front. They were wonderful to work with and it was the trip of a lifetime!
Shari and David, San Diego, California (traveled to SE Asia and later Ecuador)
My brothers and I went to Vietnam and Cambodia this summer. We all loved the cruise in Halong Bay. We got to jump off the top of our boat into the water and we went kayaking, swimming, and visiting caves. We ate some crazy food, like squid and water buffalo. too. We have really great memories from Vietnam and Cambodia!
Brothers Wyatt, Graham and Owen, USA who went to SE Asia with their parents in addition to Quivertree trips to India, China and Italy!)
Sign up for our Newsletter?
Every month we send out our best stories and tips about traveling with our kids. Sign up to read our travel adventure trips newsletter.
Please sign up to read our back issues of past adventure tips here.